10 common questions about electric kick scooters: Answered!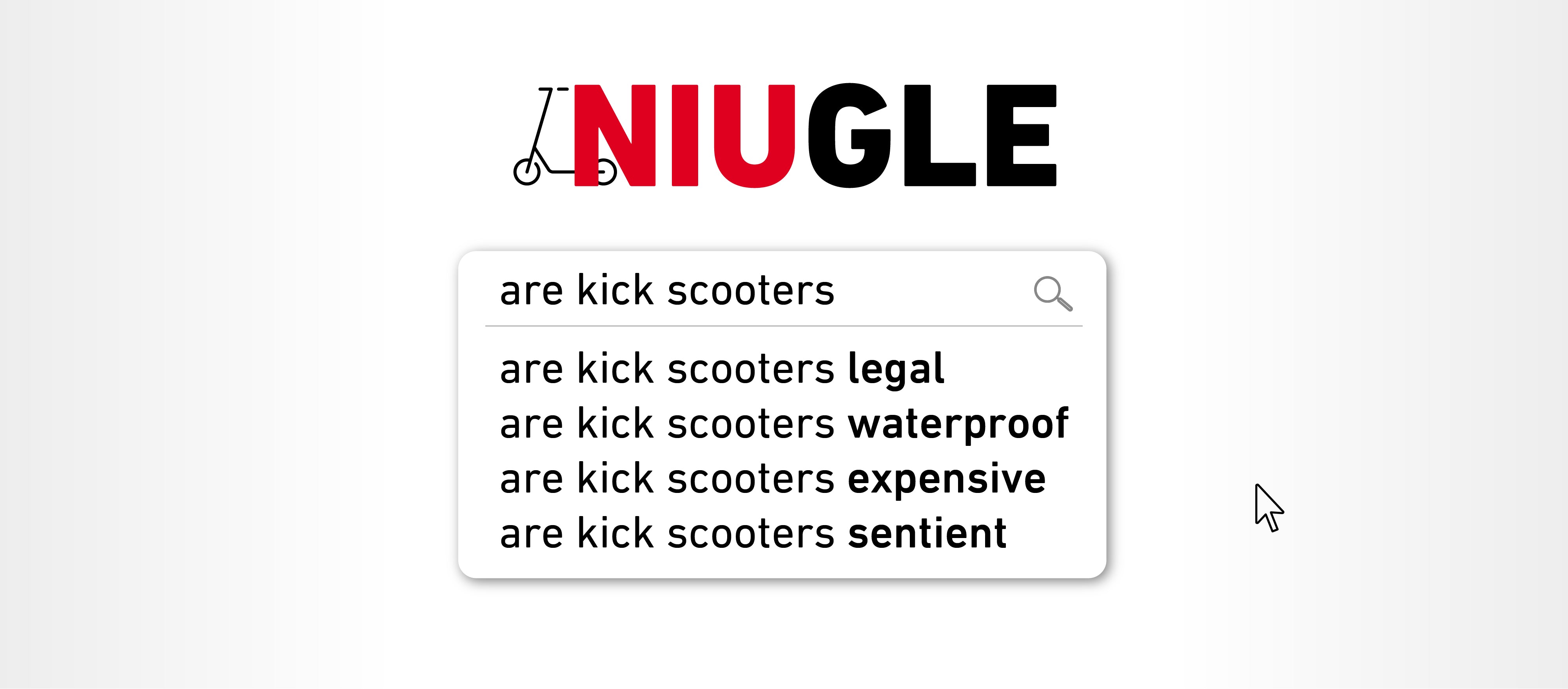 As the popularity of electric kick scooters increases in cities around the world, so does the number of questions that people have. Although countless thousands of riders have already chosen scooters as a daily commute or leisure ride option, others may not be convinced yet.
Here at NIU, our goal is to remove the veil and clear up the most common questions about kick scooters that may confuse some of the skeptics out there. Let's jump right in!
1. Are electric kick scooters legal?
Of course, a big question for potential riders is whether or not kick scooters are legal in the first place. Many may think they are not.
With the exception of a few countries like the UK, electric kick scooters are legal in most regions around the world. Even in the UK, kick scooters are still legal to use on private land with permission.
For riders in the US, specific laws may vary by state. With a couple of exceptions, electric kick scooters are road legal in most areas of the US, but speed limits, helmet laws, and other regulations may be determined by the state or city authorities.
Some European countries may require the scooter to have certain safety features (such as lights and turn signals) or registration and a license plate.
2. Are electric scooters safe?
At NIU, we build all of our vehicles with user safety as a top priority.
Our KQi3 Pro kick scooter features front and rear disc brakes, in addition to electronic brakes that can be adjusted to your preference. Not only can KQi scooters stop quickly in a pinch, they also feature bright front and rear lights, reflectors, and a mechanical bell to ensure you're seen and heard, day or night.
Of course, there is an inherent risk when using any vehicle, so you should always follow along with our safety recommendations when riding, including wearing a helmet at all times.
3. Can a kick scooter ride uphill?
For anyone who lives in a city with many hills, you know it can be difficult to navigate the streets on foot, on a bike, or even with some motor-powered vehicles.
However, all NIU KQi scooters are built with powerful motors and 48V battery systems to help you glide effortlessly up and down hills. Our KQi3 Pro kick scooter can handle uphill grades up to 20%, while the KQi3 Sport and KQi2 Pro will get you up a 15% grade with no problems.
If your grandparents ever complained that they traveled uphill both ways to school, you can tell them they should've had a NIU kick scooter!
4. Are kick scooters difficult to ride?
For beginners, it can be daunting to ride an electric kick scooter and navigate around your city's streets. However, as our beginner guide shows, there are just a few simple tips to keep in mind when you start.
As with any new skill, such as riding a bike, riding an electric kick scooter takes time and practice to become comfortable on the road with your vehicle. After a few short trips, you'll already begin building your confidence.
With features like the Custom riding mode, which allows you to set a top speed based on your comfort levels, and regenerative braking, which can be customized to slow you down automatically as you release the throttle, your riding experience on a NIU kick scooter can be tailored to your ability and preferences.
5. Do kick scooters require frequent maintenance?
New kick scooter riders, particularly those who are new to electric vehicles in general, may be wondering how often maintenance would be required.
With fewer parts compared to any gas-powered vehicles, kick scooters are a low-cost, low-maintenance alternative to getting around your city. NIU riders have traveled thousands of kilometers on their scooters, with minimal maintenance required.
Most kick scooter users will need to perform occasional brake and tire air pressure checks over the life of their vehicle, which is normal for any vehicle.
You can literally save hundreds (or thousands) of dollars by skipping the car. Say goodbye to oil changes, replacing engine and air filters replacements, and engine maintenance!
6. Are electric kick scooters fast?
Modern kick scooters are fast! And NIU's KQi lineup is no exception.
The KQi3 Max can ride up to 23.6mph (38km/h), which is perfect for surface streets, neighborhood roads, bike lanes, park pathways, or anywhere you can legally ride in your city. All of our KQi electric kick scooters also offer zippy acceleration to get you going in a snap.
Many countries, and also states within the US, limit the top speed of electric kick scooters. NIU kick scooters strike a balance between great performance and regional regulation limits.
7. What is the maximum weight capacity for a kick scooter?
When commuting or riding leisurely around your city, it's important to know how much weight your electric kick scooter can handle, especially for larger riders or those carrying extra gear with them.
Good news! Although many kick scooters are rated to handle 226lbs (100kg), the NIU KQi3 series can actually carry up to 265lbs (120kg)! That is enough to allow most riders to use the kick scooter without any issues, and also offer flexibility for some riders who want to carry a bag or other items with them.
8. Do electric kick scooters require a license?
Although many regions do not require a license of any kind to own and ride an electric kick scooter, there are some exceptions to this.
If you live in the US for example, residents of Alaska, California, Illinois, Maine, Massachusetts, Missouri, North Carolina, and South Dakota may be required to have a license of some kind. You can refer to our US kick scooter laws article for more detailed information.
It's always helpful to check with your local transportation authority to confirm whether or not a license is required, or what other regulations may apply to you as a kick scooter rider.
9. Are electric kick scooters waterproof?
Similar to a phone or other household electronics, you are likely curious whether or not kick scooters are waterproof.
While it can vary between brands and models, all NIU kick scooters are IP54 water and dust resistant. This IP54 rating means that the KQi series can withstand splashes of water and light rainfall.
As with any battery-powered device, you should avoid prolonged exposure to water when riding an electric kick scooter. We do not recommend riding during extended periods of rainfall, and you should definitely avoid riding through large puddles or submerging the deck of the KQi kick scooter in water.
10. Are kick scooters expensive?
If you've done any research on the topic, you like found a wide range of prices for electric kick scooters online.
This can start as low as a couple hundred dollars for a product from an unknown, low-quality brand all the way up to several thousand dollars for a kick scooter that is beyond the performance and price that a normal rider is looking for.
NIU offers a balanced approach: an affordable price, along with the performance and range that meet the needs of the majority. The KQi2 Pro starts as low as $599 MSRP, and we frequently offer special discounts in our online shop.
Besides simply offering a great price, owning a NIU kick scooter means you never have to feel the pain of filling up at a gas station. You can see for yourself how much further a kick scooter can ride for the same cost, compared to a car.
We hope this has helped answer those big questions that you might have, if you're considering a kick scooter for a vehicle!
We know that you'll love your NIU kick scooter. After all -- there are so many reasons to love it: the value, the quality, the comfort, and the convenience!
Visit our online shop to see our current kick scooter lineup and check out our current promotions for the best deals around!
---