NIU design: Top 4 ergonomic kick scooter features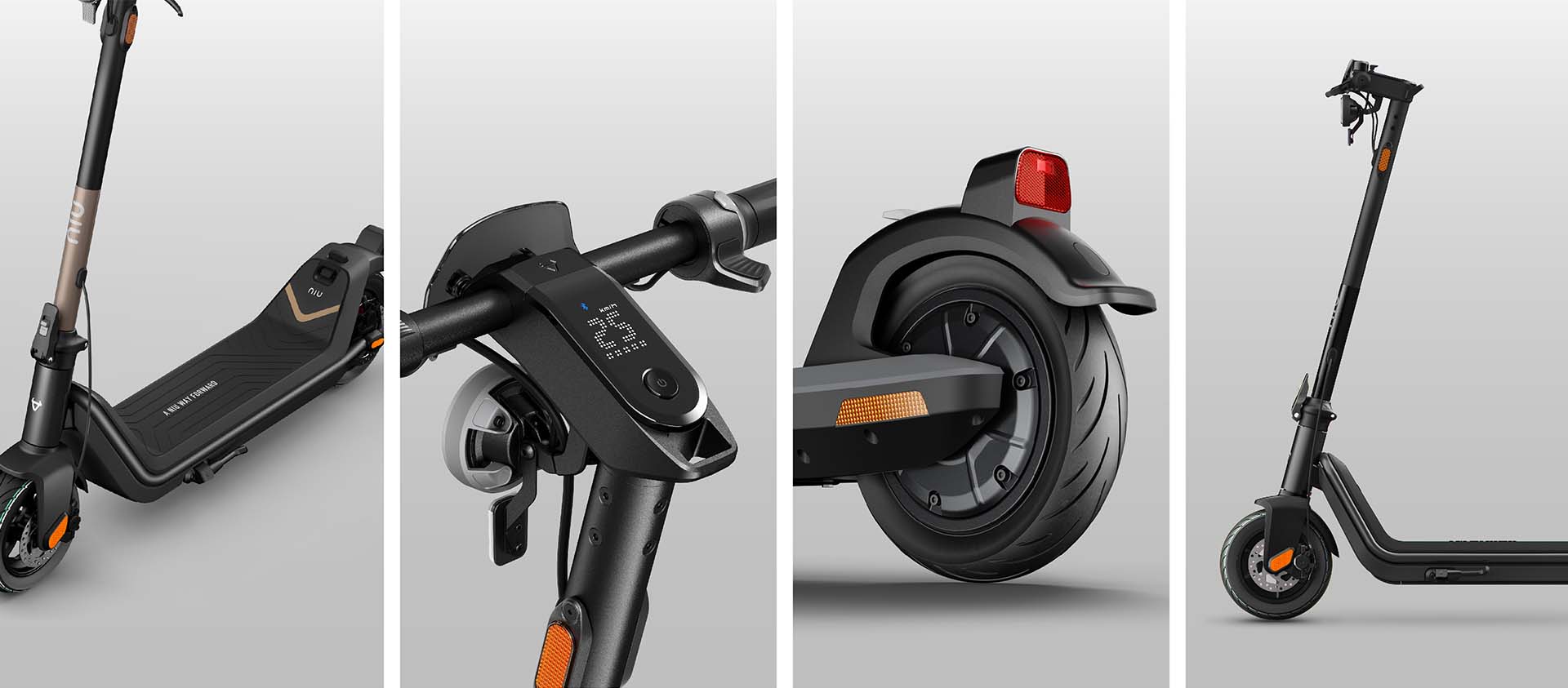 Don't be fooled: electric kick scooters for adults are nothing like the kids' scooters you may have grown up playing with in your hometown. These vehicles come equipped with thick tires, sophisticated braking systems, long-lasting battery packs, and the comfort to endure long rides.
With NIU's series of KQi kick scooters, it's clear that these vehicles were engineered with riders in mind. The designers at NIU have won numerous international design awards -- including the Red Dot and IF in Germany, IDEA in the US, and G Mark in Japan -- for their other scooter products.
Many models of electric scooter still suffer from a lack of consideration toward the overall rider experience, providing poor ergonomics.
However, from the moment you step onto any KQi electric kick scooter, it's apparent that NIU's designers take the full rider experience into consideration, placing a special focus on ergonomic design for ease of movement, endurance, and comfort.
Let's dive deeper into the top four ergonomic kick scooter features that you'll find on NIU kick scooters – particularly with our top model, the KQi3.
Wide deck 
The first thing you notice when you get on a kick scooter is the deck. It's the foundation of a comfortable journey, as that's where you'll be standing throughout.
Forget jumping from foot to foot constantly to change your positioning, or frequently readjusting your position on the electric scooter. Ample space on the wide deck of NIU's kick scooter makes it a stable ride from start to finish.
The 13% wider, U-shaped deck on the KQi3 kick scooter ensures your feet are secure, whatever your riding position preference. Sturdiness and extra foot space are a guarantee with all NIU scooters, making rider comfort a priority here.
Wider handlebars
Handlebars are vital to how you ride and control your electric kick scooter. You need a kick scooter that is easy to steer and navigate city streets with confidence.
Thankfully, the wide handlebars on the NIU KQi3 and KQi2 offer a more comfortable grip and arm position for riders of all sizes. 
There's no need to endure a crowded scooter handlebar any longer. The wide handlebars guarantee a more secure and pleasant ride, allowing riders to drive longer and farther than before.
Wider tires
Tires on a kick scooter are your connection to the city streets. They ultimately get you from point A to B.
Wide tires on all KQi kick scooters means you will have better traction and grip on the roads. This makes it easier to ride on wet streets or in other unfavorable conditions without fear of accidents. Expect robust, pneumatic tires on both the KQi2 and the KQi3 that provide shock absorption and stronger grip.
These large tires are not only important for smoother performance, but also for comfort and maneuverability. The KQi3 rolls in with 30% wider wheels than other adult kick scooters on the market. The KQi3 Sport and Pro both offer tubeless pneumatic tires, with the KQi3 Max upgrading to self-healing pneumatic tires.
75-degree optimal stem angle 
Being balanced and stable on the road are important elements of safe riding. NIU kick scooters have an intelligent design with a stem, or neck, that tilts at a 75-degree angle. The angle was engineered to offer optimal stability, balance, and improved coordination.
It ensures that the kick scooter is less likely to tip over. Instead of the more vertical angle you'll find on most scooters, on the NIU KQi2 and KQi3 models, the angled stem of the kick scooter creates a more solid base.
These kick scooters are also water and dust-resistant with IP54 technology, helping to keep them looking fresh and running smooth while on the road. Riders can cruise through city streets on these quick, lightweight e-scooters, with the comfort of knowing that they're as safe and protected as possible.
Beyond these ergonomic design points, there are plenty of NIU electric scooter features that deserve honorable mentions - like the intelligent onboard system, which boasts Bluetooth connectivity, over-the-air updates, and rider stats, among other perks. Or take the regenerative braking system, which redirects energy from the braking process to power up the battery. These and other carefully considered details are what make an NIU kick scooter a great option for commuters and joyride enthusiasts alike.
Kick scooters offer a fun and convenient commute option for anyone who wants to cut down on their carbon footprint. They're a no-brainer when it comes to essential short-distance trips, especially in the city. When it comes to choosing a kick scooter, remember that comfort, efficiency and safety should be top of mind. Luckily, NIU kick scooters were built with ergonomic features, all of which benefit our riders in terms of support, safety, and ease of riding.
Sign up to receive more useful electric scooter tips,
plus special offers and coupons!
---