What are the differences between the KQi2 and KQi3?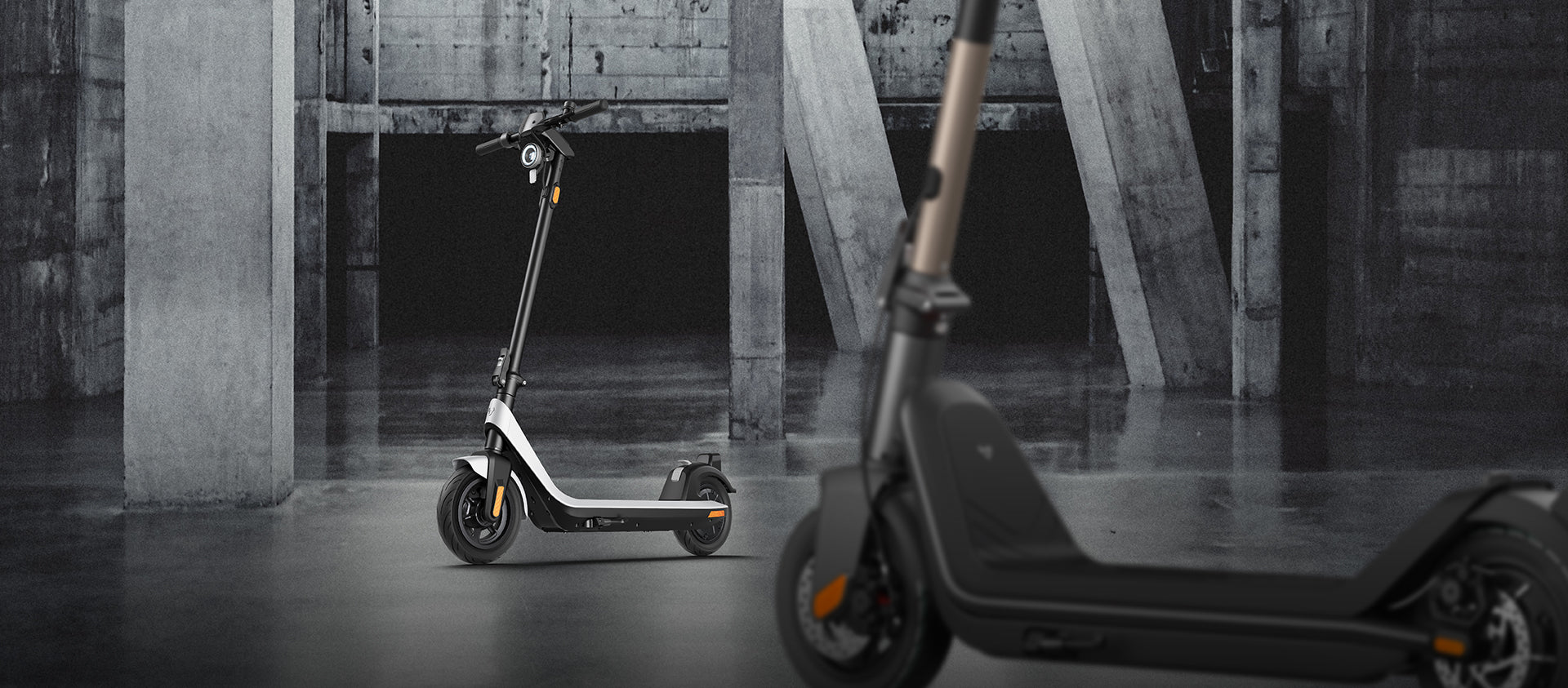 NIU has a heritage of creating excellent electric scooters that meet the needs of urban riders. Although we already redefined how people navigate their city, we also released our game-changing lineup of electric kick scooters to the world in the last year.
The NIU kick scooter series includes our headliner, the KQi3 -- the World's Ultimate Commuter Scooter. The KQi3 offers peak speed and performance, and is ideal for those who plan to travel longer distances on their kick scooter.
More recently, we revealed our KQi2 -- a personalized alternative for those who want to cruise their "last mile in style". The KQi2 is even more portable and great for those want to zip short distances through their city.
The differences: At a glance
Overall, the KQi3 is great if you need:
Great performance and higher speeds
To commute longer distances (up to 31 mi. or 50km per charge)
Maximum comfort and stability -- wider handlebars, tires, and deck compared to competition
Premium safety features and reliability
A great price -- $699 for Sport, $799 for Pro
The KQi2 stands out as the best choice if you need:
A clean, minimalist design
Swappable grip tape options to express yourself
To commute shorter distances (up to 24.9 mi. or 40km per charge)
Good comfort and stability
Premium safety features and reliability
A great price -- $599 for Pro
Before we dive in and break down the differences between the KQi3 and KQi2 models further, let's take a quick look at some of the main distinctions:
Now that we have an understanding of the key differences between the KQi3 and KQi2, let's take a deeper look at each of them.
The essentials: Speed, power, and range
First up in our comparison between these NIU kick scooter models, we want to cover the basic specs that most riders want to know: speed, range, and power.
For the thrill seekers who have a need for speed, the KQi3 Pro will offer what you crave with a top speed of 20mph (32km/h) in the US! Compare that to the top speed of the KQi3 Sport or KQi2 Pro, which are both 17.4mph (28km/h) on the US version.
While all three models of the KQi series feature a 48V battery architecture for improved performance alongside a rear-wheel motor, the KQi3 Pro still stands above the rest with a power rating of 350W that can take on uphill slopes up to a 20% grade! Contrast that with the KQi3 Sport and KQi2 Pro that already offer an impressive 300W power rating and can ride up a 15% grade.
The KQi3 Pro also offers top-of-the-line range with up to 31 miles (50km) range on a single charge. That's enough to keep most kick scooter commuters going for days! KQi3 Sport and KQi2 Pro are not slacking though -- cruise up to 24.9 miles (40km) per charge!
Design distinctions
While NIU always takes ergonomic design and rider comfort into consideration with all of our scooters, there are some differences that set the KQi models apart.
The KQi2 is built with minimalism in mind, featuring an integrated wiring system with classic white and gray color options. Lighter and even more portable, with a streamlined drum brake integration, it sports a minimalist chassis that you can easily personalize with a variety of swappable grip tape options for a vehicle that matches your personality.
The KQi3 design is practical. It's the "SUV of kick scooters", and we have pulled out all the stops. Capable of taking on many kinds of urban riding conditions, you can cruise your city with confidence on this workhorse! The KQi3 Pro is available in black or a unique rose gold finish. The Sport version adds more colorful spice with white, blue, black, and red options.
Safety features
Both the KQi3 and KQi2 feature NIU's iconic Halo light to illuminate your path, plus all the safety features you would expect such as bright brake lights, side reflectors, and a mechanical bell.
The KQi3 models feature disc brakes, with front and rear brake levers on the Pro version and a front brake lever on the Sport. The KQi2 Pro features a drum brake system with a front brake lever. Both models feature electronic, regenerative braking to help you power up your battery as you slow down.
All models have the battery built into the deck for increased balance and lower center of gravity, but the KQi3 also includes wider tires (2.5") for increased stability on the road.
Which kick scooter is best for you?
The best electric kick scooter for you will depend on your usage and preferences.
As we mentioned, the KQi3 Pro is ideal for commuters who want a practical kick scooter that can travel longer distances and offers peak performance.
The KQi3 Sport is best for commuters who want the same practical vehicle as the Pro, but travel shorter distances and don't require maximum speed.
The KQi2 Pro offers a stylish, minimalist design that can be further personalized -- all in a highly portable kick scooter package that is perfect for shorter journeys around the city.
Regardless of which one is right for your needs, we know you'll fall in love with the KQi kick scooter of your choice! Head on over to our shop to check out the full lineup and all of our accessories!
Sign up to receive more useful electric scooter tips,
plus special offers and coupons!
---